Dyches Boddiford
Dyches Boddiford (pronounced Dykes) grew up on a farm in rural South Georgia, 10 miles from the small town of Sylvania.
Dyches attended the Georgia Institute of Technology, graduating with a BS degree in Physics in 1971, a MS in Information & Computer Science in 1972 and post-graduate work in 1973. Though never having had an electrical engineering course, he accepted an offer from a small Atlanta company as an Electrical Engineer beginning in 1973.
In 1980 he began to learn about real estate and buy property on a part-time basis. His first property was his own home, but soon was picking up rental properties as well.
Then around 1984, because of his travel schedule, Dyches began studying and purchasing discount mortgages. He saw this as a way to invest in real estate without the need to deal with the property itself. But even then, he continued to add properties to his portfolio for the tax advantages and appreciation.
In 1986 he formed The Oaks Group, Inc. to handle real estate related activities. The first purchase was an apartment complex.
After making a couple of job moves, the original company with which he had worked contacted Dyches and convinced him to return to them. Over the next few years he moved up to Vice-President of the holding company.
In 1991, a national company on the New York stock exchange purchased the company for which he worked. They reorganized the company and Dyches was let go. At that point, he was in the third year of a five-year plan to replace his salary with his real estate income. He began working full time in his real estate investments and in 1992 earned more than he had working for his old employer. His regret is that he didn't go full-time 10 years earlier.
During 1991 Dyches was President of the Georgia Real Estate Investors Association (GaREIA). He was instrumental in securing the first permanent office space GaREIA enjoyed.
During the early 1990s most banks and financial institutions were unwilling to finance manufactured homes. Dyches saw this as an opportunity to profit. He studied what others were doing and devised his own program to purchase used homes cheap and sell them with owner financing at retail prices.
During the late 1980s, Dyches and another investor had researched the use of land trusts in Georgia. By 1992, they decided that because they were getting so many calls asking about trusts, they would teach a weekend class for GaREIA. Dyches also added a Corporation segment to the session to show how other entities could be used with the trusts.
Over the next couple of years, Dyches was approached by a national seminar promoter to teach Corporations for him. Thus the Corporate Fortress was born and has subsequently been licensed by an attorney to use with a presentation he makes nationally.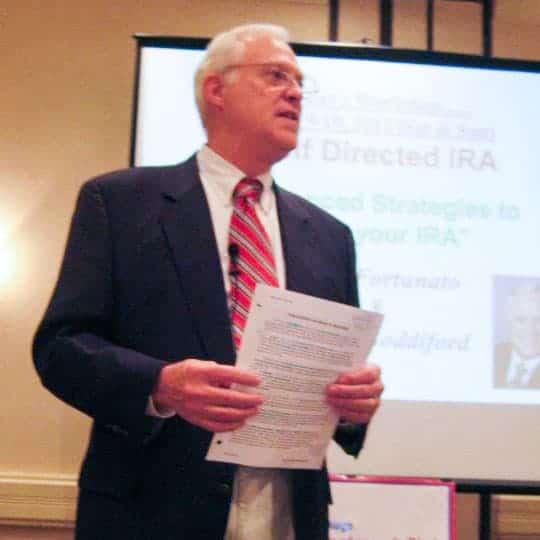 Dyches also developed his Mobile Home Money Machine course to teach others how to make money as he did in manufactured homes. When he began to develop subdivisions for mobile homes, he joined Newton Boykin in writing the book Deals in Dirt.
Even though he has added additional courses over the years and is a national speaker, Dyches has remained a full-time real estate investor. That is his main business and feels that only by being active in real estate investing can he bring real world experience to his classes and materials.
Dyches has written books and teaches seminars on Financial Freedom, Asset Protection, The Corporate Fortress, Limited Liability Companies & Partnerships, Real Estate Investment Using Self-Directed IRAs, Advanced Strategies, Business Tax Strategies, Estate Planning with Asset Protection, Guerrilla Bankruptcy Tactics for Creditors, The Mobile Home Money Machine, Deals in Dirt, Discount Notes & Mortgages, Private Money Lending  as well as other topics.
Dorsie Boddiford KUNI
Dorsie Boddiford Kuni is a full-time real estate investor in the Atlanta area. Upon graduating from Georgia Tech in 2011 with a degree in Building Construction, she took the risk to become a full-time, real estate investing entrepreneur and purchased her first house. She has built a business out of flipping houses while striving towards financial freedom with investments. She has renovated and flipped a wide variety of homes, from a 1890s cottage in a historic neighborhood to a 5 acre horse farm. Dorsie believes that real estate investing is hands-on, and you can find her many days working alongside her contractors at a flip or rental property. The key is finding the
balance between how to manage your time wisely while gaining the respect of your contractors, tenants, and fellow investors. As a young woman in the real estate investment realm, Dorsie is doing just that.
Her deals include purchases at foreclosure auctions and tax deed sales, negotiations for owner-financing, deals through door knocking and mail outs, as well as deals with other investors through wrap mortgages, hard money loans, options, wholesale deals, and equity participation.
Dorsie's investments also include a focus on wealth building through retirement accounts as expressed in her book  "The Solo 401k: The Entrepreneur's Guide to a Powerful Pension Plan"  that she co-wrote with her father, Dyches Boddiford. Her recently-released wrap lending home study course, "Wrapping for Profits," teaches investors how to become lenders themselves using small dollars to create large returns. Dorsie has also spoken locally and nationally on such topics as well as on Renovation and Flip Deals, Basic Tax Strategies for the Real Estate Investor, and creative deal structuring.
Becoming an active investor was no easy task, but Dorsie has no regrets with her real estate career. She enjoys helping and encouraging other new investors who are eager to begin their journey out of the rat race. Her early successes have made her appreciate the power of working for herself.